Greetings!
You know, I thought that with dropbox, uploading and editing photos would be much quicker, but...!
I guess, even with the added convenience of not having to plug in my phone and manually download photos, I still procrastinate. OTL!!! So photos sit in my dropbox for the longest time....
Anyway! Slightly old-ish photos.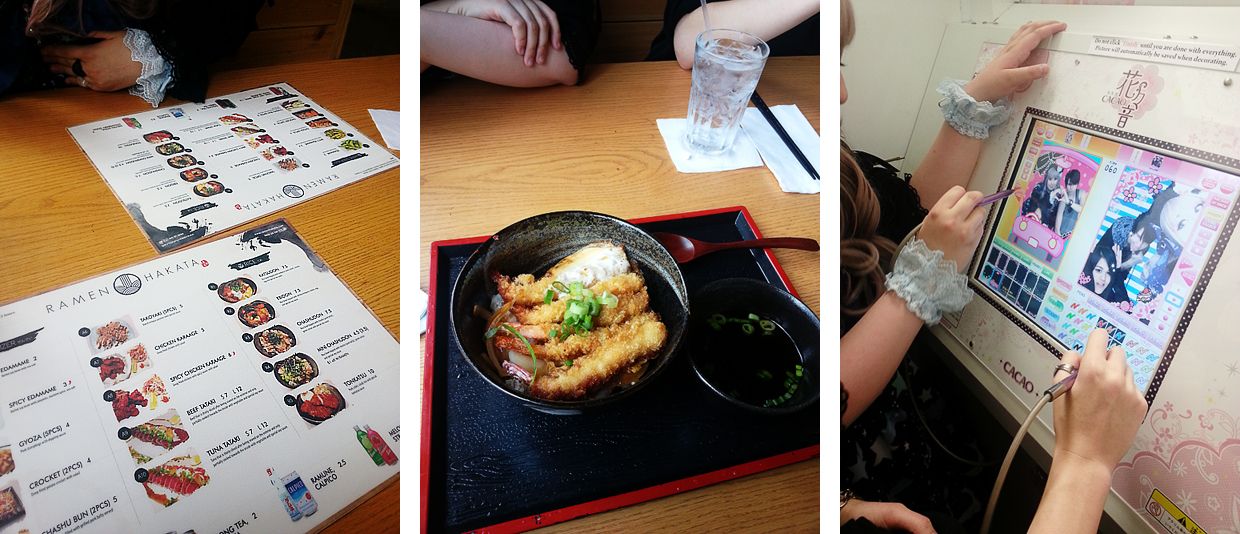 From when Mar, Natsuki and I went to Ramen Hakata and puri for lunch a few weeks ago :o!

And puri!
Oh my goodness, it is unbelievably hot inside of Cosplay and Charm, almost got a heatstroke from doing puri in such a small and poorly ventilated space x_x;; And their scans are so small/low-res. :( ...
The following day, Phi and I went to Tanoshii to have lunch, and stopped by a local coffee shop, too.
I found them on Facebook via someone's likes, but it's a really cute, small space! Method Caffeination and Fare advertised these lavender macarons that I had been wanting to try for the longest. Sadly, they were out that Sunday. I did, however, try their lavender coffee. Really strange but also very tasty.

My Chantilly order also arrived!
In the process of editing photos for these, but I'm really pleased with the designs. *__* That review will hopefully be up soon.
Trying to coord this dress;; Haven't really had a chance to wear this but it seems most of my friends have haha;;;
I've been torn lately between letting my hair grow out and actually getting a hair cut/dye job... decisions! I definitely want purple again, but I can't be arsed to at the moment. So we'll see.
Anyway, typing this up at work so cutting it short,
Thanks for reading!