Had lunch with Annette and Kristin last Saturday afternoon.
So after trying to go to Caffee Bene for the longest time since it opened (beginning of the year perhaps), finally got to check the place out!
It's so cute inside. I didn't take many photos because I didn't receive a clear cut answer about their photography policy. Most places like this have a problem when you take photos of the interior/display cakes etc. Hopefully, will nab some more photos of the decor next time.
Kristin & Annette both had one of these for lunch
some gets!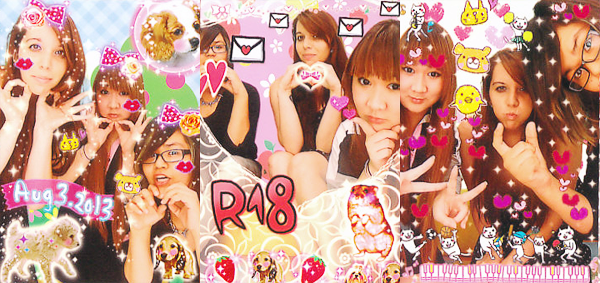 Purikura!
Two of our favorite machines are down, so we had to use this one. The lighting is too yellow and the cameras are placed all weird, but the stamps are pretty cute.
I recently started watching Wilfred and Orange is the New Black on Netflix. SO!!! On top of not having time because of work/gym, I feel like my life force is slowly being sucked away by both of these really good shows. Ahhh..!!! It doesn't help that I haven't made it through my summer reading because I am just so exhausted all the time.
Anyway, thank you again for reading!
xoxo