Today, I'll be reviewing a recent purchase I made; Evil live's Heart of Valentine 2 purse.
I'd seen them only in photos from the shop and never in person, so I was a wee bit skeptical.
Later on at Anime Matsuri, I saw a girl running around with the cutest heart backpack adorned with little gold zipper pulls. I was completely sold.
The problem with a lot of cute purse finds is that they are way too small to be practical.
Usually I can only carry the bare minimum: phone, compact, mirror, and lipstick while my keys and wallet clip to the outside. Sometimes, the poor things appear as if they'd tear at the seams.
Let me start off by saying I purchased the smaller of the two sizes, which measures approximately 14" x 12.5" x 3.5".
The price for this size ended up being $158 with a 5% discount and EMS (2-3 day) shipping.
I sent an message via
Facebook
on a late Tuesday night then Su Min told me to fill out an order form and send it via email. I received it just a few days later on Thursday morning. I actually had no idea that it had been sent out after placing my order, as most shops usually send you a tracking number after your order has been processed.
However, I'm sure if I had emailed her she would have provided it.
Needless to say, shipping was incredibly fast.
Su Min included her business card along with some sweets! The packing was a lot better than most online shops, providing about 4 inches of bubble wrap to all sides of the purse. Box was definitely roomy enough, and I received it with no scuffing/welts/etc.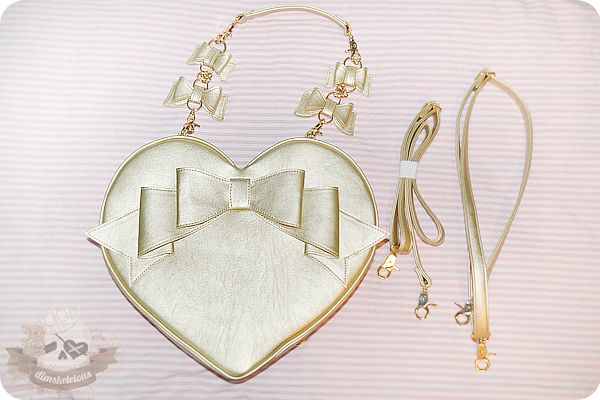 You can see here the purse comes with three straps; one hand bag with removable bows and two shoulder straps that can be worn in two ways.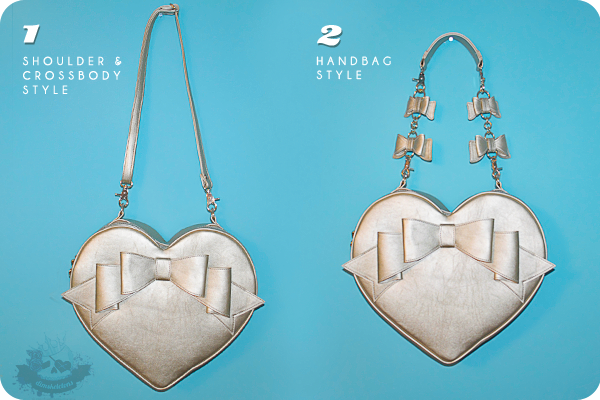 The D rings at the bottom can be used for wearing it in backpack style (not pictured). The bows can be clipped on to the shoulder straps as well for added length/decoration.
On to the details....!
Like I mentioned above the bow clips are removable. All studs are heart shaped, and zipper pulls are hearts as well.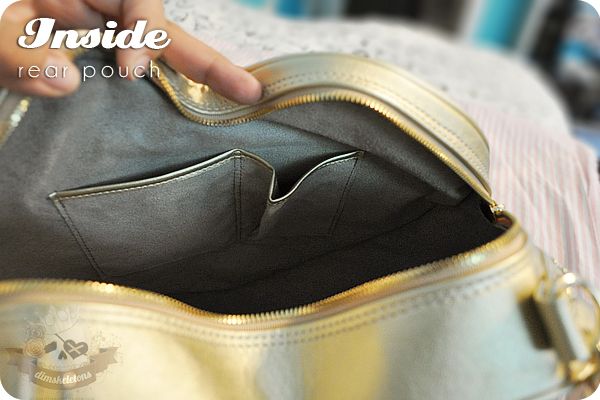 The inside is lined with a french gray suedette fabric and features the standard zipper pocket and mobile phone + other open pockets lined with gold piping.
I really wish the inside were patterned and pink or at least black but this doesn't detract from the overall charm.
As far as size goes, I can fit the following withought billowing out the sides of the purse:
dSLR + instax camera + 3DSXL + large makeup pouch + phone + wallet + keys
or
pair of flats + instax + small makeup pouch + phone + wallet + keys
It is worth mentioning that the more bags per order, the less expensive each bag becomes both in actual item cost and shipping cost. So if you are indeed interested in purchasing one, a group order is definitely the way to go. (I was impatient.)
Taken from their Facebook page:
Price : 130 USD

Shipping cost(EMS) : 35 USD for every where

1EA = 130USD / [1 by 130USD ]+ Shipping cost 35 USD = 165USD
2EA = 240USD / [1 by 120USD ]+ Shipping cost 35 USD = 275USD
3EA = 360USD / [1 by 115USD ]+ Shipping cost 45 USD = 405USD
4EA = 440USD / [1 by 110USD ]+ Shipping cost 55 USD = 495USD
So I'll go ahead and run it down by rating below--
Ease of Use: ★★★★★
Accuracy: ★★★★★
Shipping: ★★★★★
Communication: ★★★☆☆
Material/Design/Quality: ★★★★★
I'm giving 3/5 for lack of communication that the item was actually sent out to me. If anything, the purse looks much nicer in both color and texture in real life than in the stock photos. This item is synthetic leather/Vegan friendly for those of you concerned.
Thank you for reading! xoxo