I've ordered dozens upon dozens of cute tights from overseas in hopes that they'd be long enough and will actually match with my dresses. Wrong. Absolutely wrong. Or maybe I just didn't feel like paying upwards of $40 for a pair of Grimoire or Sakizo tights (also with a high chance of not making it past mid-thigh).
Over the past few months, I'd began designing lots of cute tights with no practical way of getting them printed. That didn't cost an arm and a leg. That wasn't shady. That wouldn't steal and resell my design. Etc etc.
In my search for a custom tights printer, I encountered several DIY tutorials for tights. The patterns were cute, but very simple. Being the overachiever I am, I decided to try this for myself. The trick was designing something that was single colored (for the sake of cost and ease) and matched with most of my Lolita dresses.
So let's start!
Supplies:
TIGHTS! I purchased off white opaque 80 denier from Forever21 for about $6.
Multi-purpose colored paint of your choice (I've used metallic champagne gold acrylic)
Sponge brushes
Paint palette
* I recommend using fabric paint and sticky sided stencils
Not pictured:
20 x 30" poster or matboard cut into leg templates appx. 6" wide x 36" tall
masking/painters/washi tape
stencil in shape of your choice (I used star)
circle shape for dotting (I used a non sharpened pencil and thin end of a chopstick)
The next step is stretching the tights over your cardboard template and masking off your shapes in layers. As you can see, I started with the vertical stripes.
To keep the tights from rolling into themselves I had to pin it into my wall. Another solution depending on your design is to paint directly onto your tights while you wear them.
Closeup of the design. The larger circle were done with the pencil, the smaller dots with the chopstick. Crosses were free-handed and stars done with a stencil.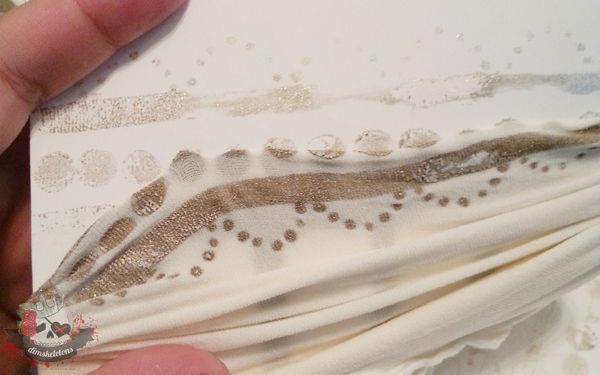 If the paint is applied too thick it will seep through and stick your tights to the template.
Peeling the tights away was definitely the most difficult thing in the entire process. My nails are long so I constantly felt like they were going to tear.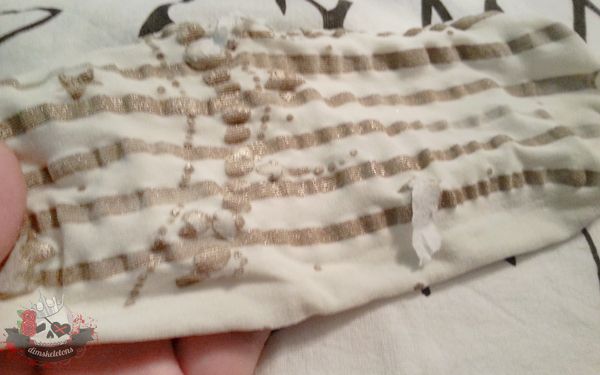 Little bits of cardboard stuck to the inside of the tights which can be remedied by soaking them in warm water.
They'll look scrunched when your done if you stretched them over something.
You can see from this photo that I didn't bother painting the side seems nor the back to the anklet.
At this point, my carpal tunnel forced me to forgo all of that. This is a trial run after all, but they look just fine without those two things (imo).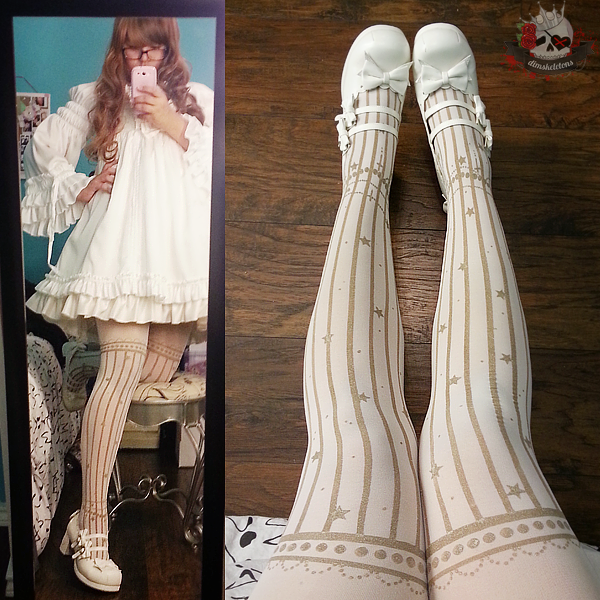 The final product! Wearing these with my Enchantlic Enchantilly After Tea Party OP. ★
Overall I spent about 2.5 hours designing, laying out the pattern and painting. I really liked the outcome so I'll probably not trash these. There's a lot of unevenness to them, but they're cute enough to be functional.
Hopefully this has helped those of you who asked. Let me see your designs and thanks for reading! ❤